Joel's screenplay, THE COLOR OF FLESH (based on his play) is a dramatic love triangle set during the turbulent years around the French Revolution. Austrian director Virgil Widrich (THE NIGHT OF A THOUSAND HOURS) is set to direct the film beginning in September 2023.

MARIE ANTOINETTE: THE COLOR OF FLESH was given its first public reading at a theatre in New York, with Julia Roberts, Elisabeth Shue, and Stephen Lang in the cast. Subsequently, the play was developed at the Playwrights Kitchen Ensemble in Los Angeles, with the help of its artistic director, Dan Lauria. Bob Kalfin directed the play at the New Jersey Rep( its world premiere,) and later directed its New York debut.

MARIE ANTOINETTE continues to be staged around the country since its 2008 off-Broadway production. Winner of "Best Play" for Spotlight Awards 2015, it has also been staged in Canada and Australia, and has been translated into Spanish, French, and Polish. To read selected reviews of the play, please click on the links to the right.

"The sweep of a historical novel….real events swirl outside, while inside at Versailles, emotions swirl just as vigorously around a triangle of love and friendship… Explores issues of class, many of them sounding quite contemporary, while creating a touching story of love." Neil Genzlinger, THE NEW YORK TIMES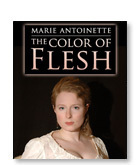 FILM
As noted above, THE COLOR OF FLESH is in pre-production, with director Virgil Widrich.

THE GIRL IN THE MIRROR, a dramatic love story set in 1947 New York City, is being developed as a film for director Geoffrey Wright (ROMPER STOMPER, MACBETH).

Joel has previously worked on films for Fox, Universal, Sony, and HBO.



PLAYS
CARMILLA, a new musical drama, written by Joel Gross and Paul Aleman, was presented as a staged reading by the York Theatre Company. The reading was directed by Gabriel Barre. Musical arrangements and supervision by Jim Abbott.
Joel and Paul are also developing DILLINGER, a musical drama about the life and legend of the famous gangster, with arranger/orchestrator Jim Abbott.
NOVELS
Joel Gross's novels include THE BOOKS OF RACHEL, MAURA'S DREAM, and THE JEWESS. He is a member of the Authors Guild, the Dramatists Guild, the Writers Guild, and the Playwrights/ Directors Unit of the Actors Studio.